sometimes things people say just really send me into a hissy fit of hysterics. there i am about to "spit take" my barely chewed granola and yogurt all over their chatty face and they don't even know what it is they have said. one such phrase has made its way into all-time classic status for me of late is anything to do with "jazzy". how is it that we can use a phrase like, "i was feeling seriously jazzed when i heard that new song", or "that whole new spring line just makes me feel jazzy" with any hope of a reply any more serious than "i know my whole body goes into jazzmodic orgasm when i even hear a hint that neil diamond is putting out a new album", or "i could seriously just get up and dance at the thought of the new faux leopard prints at nordies this year"?
perhaps my opinion is skewed, but let me give you the story and you tell me if i have any choice but to laugh...a year ago on my birthday, it was a full moon and very close to midnight; a whole group of my very "goddessy" friends had gathered at the local swimming hole for a full moon salute, if you will. we were giggling and shivering and dunking and diving with all the joy of any group of nubile young otters (mind you the goddesses ranged from mid-twenties to forties and all sorts of body types, but full moons just have that power don't they?)
somewhere about midway through the watterlogged event one of the nymphs told the group a work story and in all seriousness used the phrase, "i was so jazzed". we all hit a moment of silence, did she really just say that? we laughed and teased and cajoled with greater and grander renditions of the phrase until we finally came up with the "jazzy challenge"--all this in the middle of the pool. each member of the group left with the assignment to use the phrase in public, in earnestness...the more people you said it in front of the more credit you get...and if you use jazz hands then you win the challenge--hands down. then we moved on with the night. the challenge went underground, some of us forgot it, some made a half-assed (smirk) attempt to slip it into the convo--and then word came...
one of our party had used it at a board meeting, in front of around 20 people, she stood up and using the jazz hands let the whole board know she was "so jazzed" about this latest program. how do you even top that without losing your cool right in the middle of the statement?
well this week my "jazzy challenge" has reemerged with a vengeance. i have spotted the use in three separate blogs, these people were not at the full moon celebration, they never received the jazz hands challenge, they just spontaneously fit it right into convo...
one of them in reference to a dance pic he was riffing on...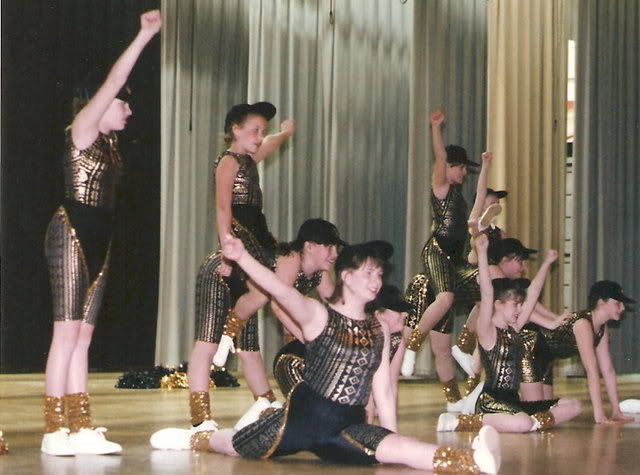 For anyone who knows anything about Jazz dance trivia- I'm sure you recognize the 2001 National Champions, and five-time Seriously-Jazzed Award winners, Soul Fortress…. Yes, these girls had it all- the fame, the fortune, the spandex, the Little League All Star boyfriends…. It was a true Cinderella story for this rags-to-riches squad from Caramel, Montana- until Marlie Sofer stumbled through the hotel room door, that fateful November night……
find the whole rif at casey's myspace (beware this one has graphic language and photos-link at your own risk-those who can overlook such things will find a good bit of writing and laughing)

the next i found in reference to the political process...
· It's amazing how something so incredibly exciting and inspiring can begin to take on all the charm of root canal surgery in the space of an hour; AND YET
· I am actually jazzed, in a totally politi-dork way, about getting to go to the county convention; HOWEVER
· There is no way in hell I'm going to let myself be nominated as a state delegate/alternate.
and finally, in a friend's blog about a new movie theatre in ethiopia...
I'm jazzed there is a theater in town, but disappointed that the worst of American "pop-culture" will most likely end up showing on its screens being viewed by the few Ethiopian elite who can afford to see a movie. For the average Ethiopian the cost of admission (45 birr, 5 usd) is more than they earn in a month.
so apparently, "jazzed" is the new "seriously" use it with wild abandon people, i know i will.
----------------
Now playing: Liz Phair - Turning Japanese
via FoxyTunes